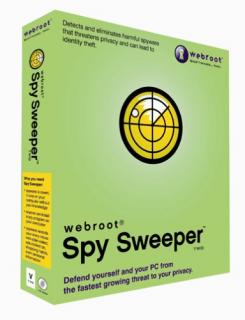 Webroot Spysweeper 5.3.2.2361
Feature Set:
Spy Sweeper is continually evolving and the newest version 5.3 is better than ever. It runs without bogging down your system and can run quick, custom or full sweeps in record time.
This program has fifteen shields, which include shields that protect from tracking cookies, explorer hijacks, keyloggers, ad sites and much more. If you don't know what kind of protection you want, the program will run 12 recommended shields.
After a scan, Spy Sweeper provides easy–to–understand reports. When items are detected the report assigns a level of risk and description for each item. You can then quarantine, delete or restore the discovered items. Spy Sweeper can also keep you informed of immediate threats by warning you if an application is trying to install on your computer.
Effectiveness:
Spy Sweeper stays one step ahead of spyware with adaptive technology that anticipates spyware mutations before they have an accepted defense definition. This program found and removed virtually 100 percent of the spyware and adware we tested it against. This program also utilizes rootkit technology to dig out malicious programs that try to conceal themselves deep within your computer
Windows 2000, Vista (ediciones Home Basic, Premium, Business o Ultimate), o XP (ediciones Professional, Home, Media Center o XP Tablet)
* Procesador a 350 MHz
* 15 MB de espacio libre en el disco duro
* 258 MB de RAM
* Admite Internet Explorer 5.5 o posterior
download :
http://www.bigupload.com/d=ED3C20FA
-------
http://mihd.net/mxthwz
-------
zip password : www.moojuae.net/vb